OUR PASTOR
Pastor: Mary Elizabeth Sigmon
Seminary: Union Presbyterian Seminary, Charlotte Campus, Class of 2013
Ordained: November 24, 2013
Undergraduate: University of North Carolina at Chapel Hill. BS in Bacteriology, Class of 1969 Graduate: Duke University, MA in Microbiology and Immunology (1976)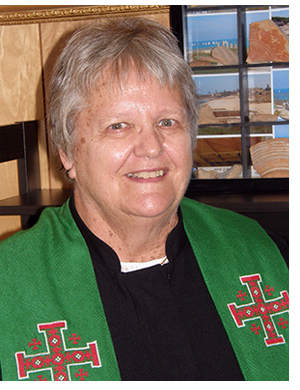 Born and raised in Cabarrus County, North Carolina. I grew up when the area was very rural, with most of the families either farming or working in the local textile industry. I attended school (1-12) at Harrisburg before doing undergraduate work at UNC-Chapel Hill. My interest in biological systems led me to working in medical research in the area of immunology and transplantation genetics. I moved to Minnesota in 1976 where I worked at the Veteran's Administration Medical Research Center. While there I met and married Wayne Larson. We have two children, Anthony and Heather. When Wayne became seriously ill we moved back to North Carolina (1984), where I began working for the US Postal Service.
Wayne passed away in 2005 after protracted serious health issues. Our son, Tony Larson, is also an ordained minister in the PC (USA) now serving a small church outside of East Hampton, Long Island, NY. Our daughter, Heather, now lives in Chicago with her husband, Kevin, who is a native of Chicago. She works as an Associate Director for Starcom Mediavest in Chicago. She and Kevin have two children, Henry and Charlotte.
When I began to feel called by God into ordained ministry, I felt the call was to serve a small church congregation where the community of faith might be small, but has a strong sense of discipleship and mission. Olney is a warm and welcoming community with a sense of belonging to the family of God and a desire to serve the Lord.